Fort Davis Moons & Tunes Festival!!!
Homecoming Weekend 2023
Thursday 10/26:
6pm - Homecoming Parade downtown
Pep Rally
Bonfire at the County Park
Friday 10/27:
6pm - Homecoming Football Game - Fort Davis Indians vs Marfa Shorthorns!
9pm-midnight - Homecoming Dance at the Kelly Pavilion - free and for all ages!
Saturday 10/28:
9am - Chuckwagon Breakfast
10am - Historical tour / horse parade
2pm - doors open Kelly Pavilion - food & drinks, music
3pm - Goat Roping!
5pm - Family Barn Dance with live music, featuring:
Get concert tickets in advance!
We'll have your name on the list at the door!
Barn Dance
5-11pm Saturday 10/28
Tickets: $20/person, $50/family
Thank you! Your money
goes to the bands!
Reserve a table for your group!
Comes with advance tickets for up to 9 guests, a group sign, and a bucket of drinks.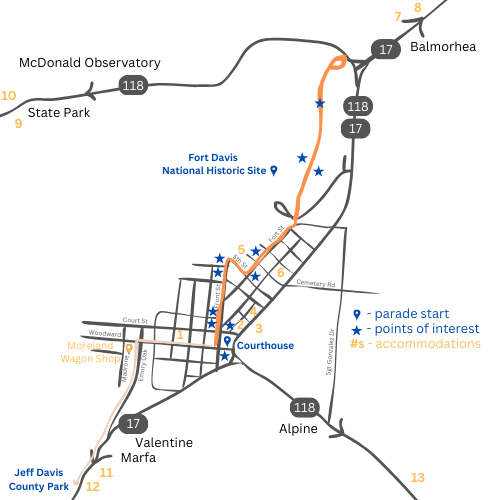 Chuckwagon Breakfast
Saddle up and head down to meet us at the County Courthouse - we'll be around the chuckwagon enjoying cowboy coffee and breakfast tacos served by the Fort Davis FFA. 9am
Horse Parade & Historical Tour
Take a ride down the original main street of town, which is also the old Overland Trail! We will make a few stops at points of interest along the route as our tour guide (Rick Draheim of the Overland Trail Museum) shares some of the history of the buildings we pass as we ride to the Fort Davis National Historic Site and through the Fort grounds!
(Horses, wagons, buggies, bicycles, pedestrians, and dogs on leashes welcome! No motors please. We may provide a pickup crew to come along later and clean up after the horses.)
The official tour leaves at 10am from the West side of the courthouse on Front Street heading North, turns East on 5th Street near the Presbyterian Church, in one block turns NorthEast on Fort Street. Entering the Fort grounds near the walking gate and continues on Northward to the Y. (almost 2 miles total, plus another 2 miles back)
We'll turn around near the gate at the Y and go back through the Fort grounds the same way we came in. Continue on back to the courthouse or feel free to tour on your own from there. If you wish to visit more of the Fort, please check in at the visitor center before exporing any other parts off of our parade trail route. Optional to explore more of town or continue on from the courthouse in the Southwest direction on the Overland Trail route as far as the County Park.
(Note: we will be meeting and traveling within the west side of town and off of State Street / Hwy118 / 17 so we don't impede any traffic on the main thoroughfare through town!)
Parking
Trailer parking and unloading options are numerous around the blocks near the courthouse. The Jeff Davis County Park is a little over 1 mile from the Courthouse, and has ample parking and space to set up.